This section covers eligible employees who are paid weekly.
Your vacation balance is displayed at the top right of your electronic time sheet when you access it through Atlas. That section of the time sheet looks something like this: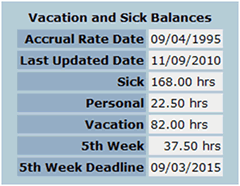 When does vacation accrue?
You accrue vacation monthly based on your accrual rate date. (In the example above, the employee accrues vacation on the 4th of each month.) However, you will not see your monthly accrual reflected in your balance until the week after it is earned, when payroll is processed for the previous week. Likewise, any vacation days you report on your weekly timesheet will not be reflected in the balance shown until payroll is processed the following week.
How many vacation hours do I accrue each month?
That depends on the number of hours in your standard work week and how long you have been at MIT. The basic formula is to divide your weekly hours by 5, and then multiply the result by 1.6667 (or 1.25 if it's your first year at MIT):
(# of weekly hours / 5) x 1.6667 (or 1.25 if in your first year at MIT)
If I work overtime, does my vacation accrual rate increase?
No. Vacation accrual is based on your standard work schedule, not the number of hours you actually work.
What if my hours change on a regular basis from 35 to 40 hours per week?
Someone from your department must increase your scheduled weekly hours in SAP (HR's system of record). This will ensure that you accrue vacation at the correct rate.
What is "5th week vacation?"
In recognition of long-term service, employees receive an extra 5 days, or "5th week," of vacation every 5 years, starting on their 10th anniversary. This extra vacation is tracked separately, and must be used within 5 years. See MIT Employment Manual Policy 4.2.2 for more details.
How much vacation am I allowed to accrue?
The maximum vacation balance you are allowed to carry, regardless of work schedule, is 320 hours. This does not include the 5th week vacation credit.
Need Help?
If you have questions about your vacation balance, please contact your supervisor or the HR-Payroll Service Center at 253-4255 or payroll@mit.edu.